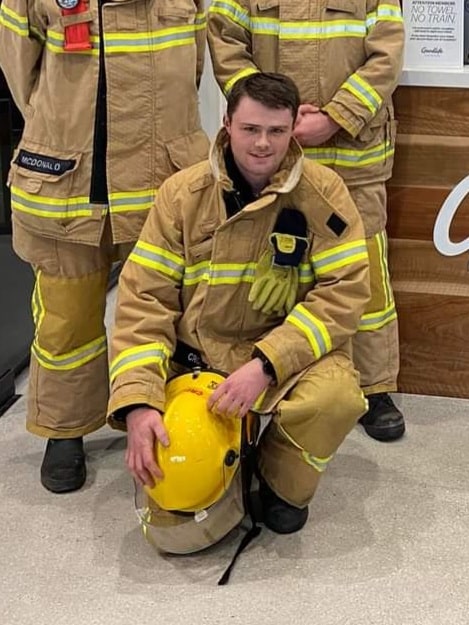 Climbing For A Worthy Cause
On Saturday 10 September 2022, VACC apprentice Greg Perkin joined 600 emergency personnel in the ninth annual Melbourne Firefighter Stair Climb.
Greg climbed the 28 floors of Crown Metropol Hotel in Melbourne wearing full structural firefighting protective clothing and fully laden down with 25kgs of self-contained breathing apparatus to raise money for various mental health causes.
More than $500,000 was raised for Lifeline, Fortem and the 000 Foundation, to improve support services, fund research, remove stigmas and raise awareness of mental health issues.
Greg is currently working as a third-year apprentice motor mechanic at Nunawading Toyota in Nunawading and is a volunteer brigade member of South Warrandyte CFA for the past 18 months.
When I finished the climb, I was excited that I had made it to the top. Along with the sense of pride that I had been able to participate in such an amazing event," said Greg.
To maintain a constant level of fitness, Greg and his fellow volunteer brigade members exercise and train two nights per week on practical fire drill sessions so they are prepared for any situation they may get called out for.
In a month leading up to the stair climb, Greg and his other team members started training in the gym on the step climber machines. They also trained in stair wells in a few buildings where fellow brigade members worked and at walking trails where there were some steps.
Greg is a very talented apprentice and I'm very proud of him, said VACC Automotive Apprenticeships Field Manager, Steve Tye Din. "He is a wonderful apprentice to have. He performs tremendously well in the in the workshop and at trade school. He's a hard worker and a great team member of the workplace. To be a volunteer with the CFA and to compete in the gruelling firefighter stair climb to raise money for such a worthy cause is a testament to him as person," said Steve.
As for his future in the CFA and his career in the automotive industry, Greg says, "I would love to become a strike team leader with my brigade. A strike team leader is a person who manages and looks after a small team when it comes to those big bushfires. After I complete my apprenticeship, I want to become a Toyota master technician and further along maybe have a go at service management."
He's a young man that the audience hears playing the tune but very few know who he is. For VACC apprentice Eddie Simpson shares the same attribute as former Beatle Paul McCartney – they are both left-handed guitarists.
Preparing and racing a mud-bash buggy, canoeing through scenic waterways or completing five-day rugged bushwalking treks are all part of the fun and adventure for VACC apprentice Kieren Simpson.
VACC Auto Apprenticeships is proud of the many awards our apprentices have received as part of their training.  Below is just some of the achievements made in recent years:
| | |
| --- | --- |
| Dane Rhind | Knox Mitsubishi, Employee of the Year |
| Nathan Thomson | Chisholm Automotive Student of the Year |
| Ruben Weatherill | Kangan Institute, Trainee of the Year |
| | |
| --- | --- |
| Joshua Wilson | Link Training, Apprentice of the Year |
| Warren Wu | BMW Group Australia, Top 4th Year Apprentice of the Year |
| Matthew Frearson | Kangan Institute, VACC Apprentice of the Year |
| Fiona Lawrie | Box Hill Institute, Women in Automotive Encouragement Award |
| Daniel McKinnon | Box Hill Institute, Outstanding Automotive Apprentice Stage III |
| Jai Lindsay | Box Hill Institute, Outstanding Student for Certificate II Automotive |
| Matthew Frearson | Kangan Institute, Outstanding 2nd Year Apprentice |
| Courtney Moran | Kangan Institute, Trainee of the Year |
| | |
| --- | --- |
| Brian Kirkman | Gold Medal – Regional WorldSkills Competition in Light Vehicle |
| Joshua Atkins | Bronze Medal – Regional WorldSkills Competition in Light Vehicle |
| Nicholas Callinan | Nominee – Regional WorldSkills Competition in Light Vehicle |
| Paul Mills | Top Mazda Apprentice of the Year |
| Matthew Frearson | Top Fiat Chrysler Apprentice of the Year |
| Darcy Tremayne | Kangan Institute, Apprentice of the Year |
| Yahye Ali | Kangan Institute, Outstanding Achievement Award – Light Vehicle Apprenticeships |
| Julian Woodmansey | Kangan Institute, Outstanding Achievement Award – Motorcycle Apprenticeships |
| Chris Tuck | Top Toyota Apprentice Award, Southern Region |
| Thomas Bath | Box Hill Institute, 3rd Year Award for Certificate III Automotive Box Hill Institute, Rotary Club of Forest Hill for Automotive, Transport & Engineering |
| Fiona Lawrie | Box Hill Institute, Daryl Clements Award – Light Vehicle Mechanic |
| Leigh Thomas | Box Hill Institute, Daryl Clements Award – Light Vehicle Mechanic |
| Warren Wu | BMW Technician Development Program, High Achievement Award – 2nd Year |
| Julian Woodmansey | Kangan Institute, 2nd Year Apprentice Award for Motorcycles |
| Dylan Lubke | Shepparton TAFE, 1st Year Apprentice of the Year |
| | |
| --- | --- |
| Adam Rivett | Volvo Program, Top Volvo Apprentice of the Year |
| Chris Carapellotti | Volvo Program, 1st Year Apprentice Award |
| Adrian Randich | Hume Whittlesea VET/VCAL/SBAT Award |
| Braydon Peterson | Hume Whittlesea VET/VCAL/SBAT Award |
| Jason Smith | Top Regional Honda Apprentice of the Year |
| Jaydn Hubalek | Kangan Institute, VACC Apprentice of the Year |
| Jean-Francois Tranquille | 1st Place, Victorian PPG Colour Matching Competition |
| Guo-Jie Lay | Top Regional Toyota Apprentice |
| Jessica Lee | Box Hill Institute, Pursuit of Excellence Award |
| Chitresh Kochar | Box Hill Institute, First Prize Best 3rd Year Apprentice |
| Warren Wu | Box Hill Institute, Second Prize Best 2nd Year Apprentice |
| | |
| --- | --- |
| Nicholas Beale | Box Hill Institute, Best Apprentice |
| Brenton Hands | Kangan Apprentice of the Year Gold Medallion Technical Group Gold Medallion Outstanding Achievement Award in Automotive Technology Silver Medallion in Certificate III in Automotive Technology |
| Matias Benitez | Box Hill Institute, Pursuit of Excellence Award |
| Guo-Jie Lay | Box Hill Institute First prize in Level Two Studies for Cert III Auto – Light Vehicle Mechanics Box Hill Institute, Pursuit of Excellence Award |
| Christopher Wood | Swinburne Institute, Best 3rd Year Apprentice Award |
| Josh Atkins | Swinburne Institute, Best 2nd Year Apprentice Award |
| Benjamin Harriage | Swinburne Institute, Best 1st Year Apprentice Award |