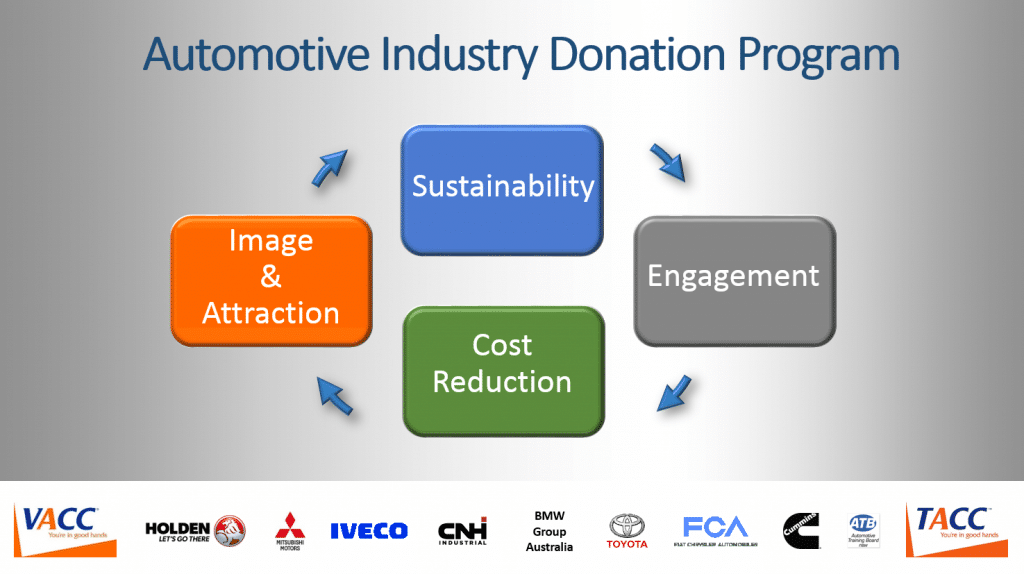 The establishment of a formal Automotive Donation Program comprised of the major automotive industry stakeholders and educational partners across the country is proposed. This collaborative arrangement meets the government expectation that industry engage in the development of skills and training. Its implementation has the capacity to ease current cost burdens for both education institutions and local automotive businesses that individual training providers have come to rely upon for donated equipment. The program will specifically target two areas of training:
Primary focus on apprentice training, which will require a more specific set of guidelines surrounding the number and type of donated equipment that will suit the individual places of learning, their delivery capabilities and to maximise student outcomes for local industry requirements.
Secondary focus on Secondary School donations that are made up of a variety of individual components. This will support first impressions, basic hand skills and development of mechanical aptitude.
For the industry stakeholders who partner, it will provide a more equitable distribution of their automotive parts, diagnostics software and equipment and will ensure a more uniform approach to fostering quality industry relevant skills training across the country.
Objectives
1. Analyse the current componentry situation in automotive places of learning across both Victoria and New South Wales to determine priority, their scope of delivery and surrounding industry needs.
2. Creation of communication channels with manufacturers and formulisation of relevant donated componentry/vehicles database with disposal timelines and location of origin that will meet demand.
3. Simplify logistics of transporting donations to places of need
4. Formulise handover and standardised agreement for places of learning
For further information on the program contact:
VACC Automotive Apprenticeships
03 9829 1130
autoapprenticeships@vacc.com.au