What is an apprenticeship?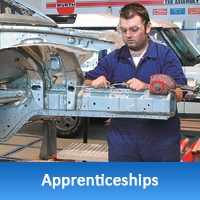 Automotive apprenticeships combine paid, full-time employment and trade specific training at a Certificate III level. Automotive apprenticeships give you the fundamental training in your chosen trade.
If you become a VACC Auto Apprenticeships apprentice, VACC becomes your employer and is responsible for your wages, superannuation and all of your employment entitlements.
VACC Auto Apprenticeships places you within VACC member workshops for your apprenticeship work placement (these workshops are known as Host Employers).
A VACC Auto Apprenticeships Field Officer will take care of your TAFE enrolment and monitors your TAFE progress, and also visit you in the workplace to discuss your apprenticeship progress or any issues you may want to talk about.
Why do an apprenticeship?
Apprenticeships provide an ideal pathway for individuals to enter the automotive trade and provides opportunities to up-skilling and career advancement in the automotive industry.  Automotive apprenticeships have the benefits of:
Paid full time employment
Formal training with a Registered Training Organisation
Nationally recognised Certificate III qualification upon completion
Greater career options
Up-skill and potentially become a Diagnostic Technician, Workshop Supervisor, Workshop Manager or Business Owner