Preparing and racing a mud-bash buggy, canoeing through scenic waterways or completing five-day rugged bushwalking treks are all part of the fun and adventure for VACC apprentice Kieren Simpson.
First-year apprentice motor mechanic, 20 year-old Simpson is a Rover in the Maroondah district of the Mount Dandenong region scouting movement.
"I have been in the scouting movement since I was seven years old. My parents were involved in scouting in their youth and thought it was a good idea for me to join. I really enjoy the opportunities offered by Rovers to learn and try new experiences, plus there is a strong sense of camaraderie in the Rovers as we all look after each other and run all our own events," Simpson said.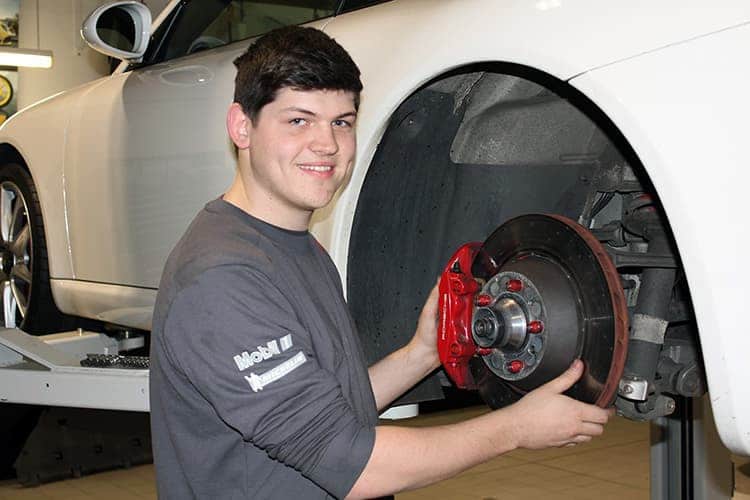 Currently working at the newly opened, state-of-the-art Porsche Centre Doncaster, Simpson says it's not all fun and adventure. As a Rover crew leader he has had to organise several community events like donating cut flowers at retirement and nursing homes on mothers' day, perform clean up rubbish days in the local area and plant indigenous trees around the scout hall.
When Simpson completed Year 12 in Secondary school he enrolled in a mechanical engineering course. After six months he decided that he needed a change to a career with a more hands-on approach.
"I have always been interested in motor mechanics and mechanical constructions in general. Initially working on my own car, the mud bash buggy and now at Porsche Doncaster has really confirmed that I made the right career choice," says Simpson.
VACC Auto Apprenticeships Field Manager, Steve Tye Din said, "Kieren is a friendly, cheerful and considerate person. I feel a lot of these personality traits have been developed in him from mixing and sharing time with others in the scouting movement. I'm very pleased with his apprenticeship progress, his knowledge and practical ability is well above the first year apprentice level and he has a terrific attitude in wanting to learn."
An upcoming Rover moot (similar to a Scouts jamboree) where Rovers from all over Australia and many from overseas will descend on Mafeking Rover Park, located in Caveat, approximately two hours north of Melbourne.
The 130-hectare park is owned and operated by the Victorian Rovers and is a mix of open land, scrub and bush.
Event organisers are expecting over 500 Rovers to attend the 11-day moot starting on December 27 where activities will include archery, abseiling, water sports and mountain bike riding.
Simpson's immediate goals in scouting are to improve the mud-bash buggy to hopefully win some races against other Rover crews, but most of all have fun.
His long term plans are to be a leader for the younger sections of scouting like the Cubs (8 – 10 year olds) or Venturers (14-17 year olds).
His automotive career plans are to successfully complete his apprenticeship at Porsche Centre Doncaster and progress on to become a gold level Porsche technician.