He's a young man that the audience hears playing the tune but very few know who he is. For VACC apprentice Eddie Simpson shares the same attribute as former Beatle Paul McCartney – they are both left-handed guitarists.
Simpson plays electric guitar and regularly joins his professional singer musician friend on stage at music venues all around Melbourne. They play a range of music from rock songs, classic blues and instrumentals.
"I have been playing guitar almost every day since I was 10 years-old," said the 21-year-old Simpson.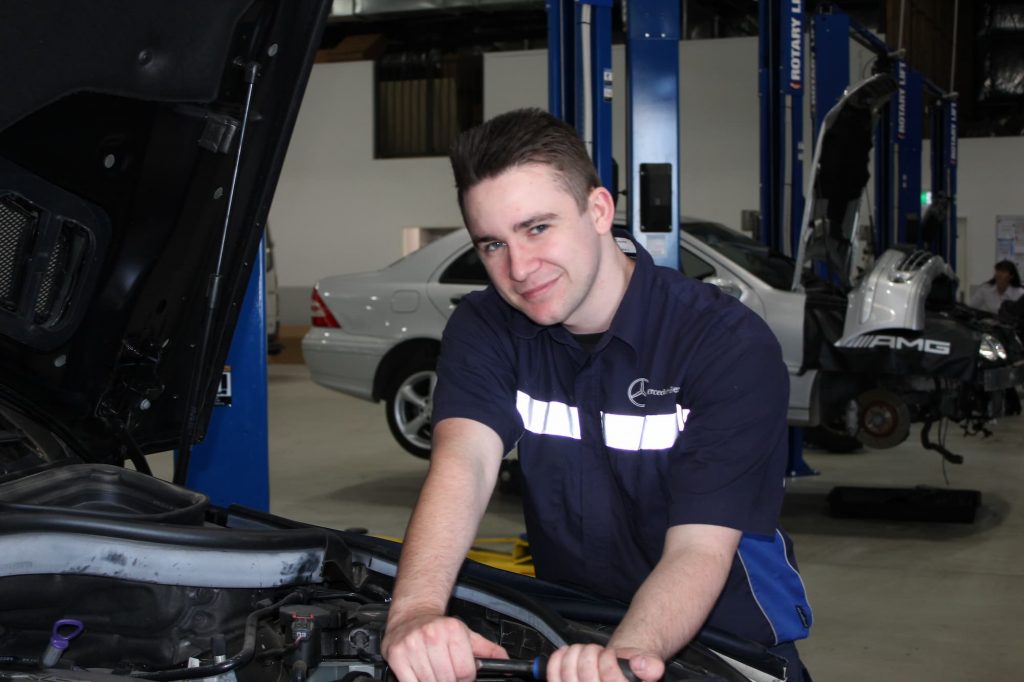 "A senior student at secondary school made me realise I wanted to excel with guitar playing. He was a guitarist I looked up to as an idol as he played with an unbelievable tone and technical ability. I watched how he played and mimicked him. Basically I learnt guitar fundamentals from him and self-taught myself from there."
Simpson is a third year apprentice motor mechanic and currently works at the ultramodern newly-opened Mercedes-Benz Ringwood. He said, "Being a left-handed guitarist is a lot less common in general, in terms of instruments, so buying a guitar is a lot harder.
Most people can walk into a music shop and play any guitar they want and pick the one that feels best for them. Generally this is not available to me making it very difficult to find the right guitar especially with high end guitars costing $3000 and more.
Frequently you have to order a specific guitar from the factory and wait months for it to be made. Each guitar is often unique in sound, feel and sustain, not being able to play the guitar before you buy it you're unable to discover the distinctive characteristics."
Simpson owns a B.C. Rich Mockingbird, a Schecter Hellraiser and will soon purchase his first Gibson Les Paul guitar. His favourite guitarist is heavy metal rock virtuoso Paul Gilbert.
Owning and tinkering with his 1976 Toyota Celica RA23 was the impetus that got Simpson to start a motor mechanic apprenticeship. He always liked the older model cars and becoming a mechanic, he felt, would help him with the knowledge and skills to fix and improve performance on them.
"Eddie is one of the most talented apprentices that I have ever employed," said VACC Auto Apprenticeships Field Manager, Steve Tye Din.
"His workshop abilities and trade school progress are outstanding. He's a quick learner, motivated and a reliable team member; nothing is too much trouble for him. If he can play guitar as well as he can fix cars, then he must be a damn good guitarist."
Successfully completing his apprenticeship with Mercedes-Benz Ringwood and striving to be a Mercedes-Benz master technician are his first aims, then possibly explore various senior roles within the dealership is appealing to him at this stage of his career.
Owning basic recording and tracking equipment and the aid of computer programs, Simpson hopes to produce his own instrumental records and possibly form his own band.
"I can play basic songs on the piano but I want to become more proficient and learn more complex arrangements.
"Doing this may teach me new ways to look at music and where I can transfer that back onto guitar. A lot of legendary guitarists copied classical music pieces and made it work for guitar," he added.