VACC apprentice motor mechanic Finn Hussey (pictured) was presented with the 'True Encouragement' scholarship award for his studies at Box Hill Institute.
The Fountains Restaurant at Box Hill Institute was the venue on Thursday afternoon 29 August 2019 where the awards ceremony was conducted.
Finn is a second year apprentice motor mechanic currently working at Porsche Centre Doncaster. "I believe I was nominated for the scholarship because my work efforts were recognised by the teachers. I also believe the teachers noticed how dedicated I was at ensuring I was learning everything I could, ignoring distractions, staying focused and keeping my head down and absorbing as much information as possible," Finn said.
Finn began his automotive career as a Certificate II School Based Apprentice with the VACC prior to transitioning to a full time Certificate III apprenticeship.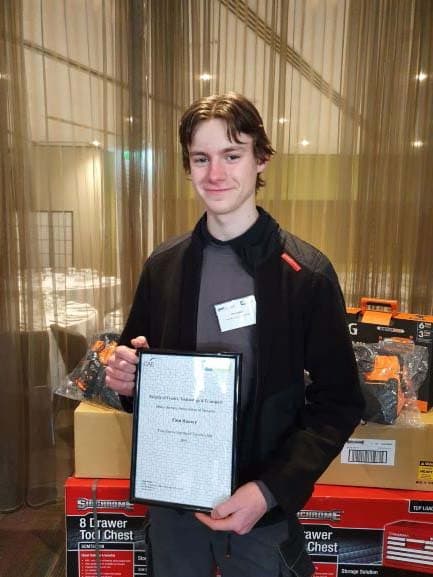 But it was his early childhood years that he discovered he loved learning about how things worked and how machines operated. When he found out cars were driven by an engine and a drivetrain he was hooked and wanted to make a career from his passion.
When Finn found out that he had won the scholarship award he was ecstatic. "I knew how much effort I put into my studies. The award has motivated me to strive for greater results in everything I do and has shown me that when you put in the effort and truly try your hardest into important things in your life, eventually you will get rewarded," he added.
The Moke Owners Association of Victoria was the proud and very generous sponsors of Finn's prizes. This included a Sidchrome 204 piece tool chest, an AEG 18V brushless impact driver kit and an AEG tool carry bag.
Finn is a wonderful apprentice to have employed," said VACC Automotive Apprenticeships Field Manager, Steve Tye Din. "He has this incredible desire to learn the trade and to push himself to constantly get better and succeed in whatever tasks are put before him. He is a polite young man, conscientious and a terrific team member and works very hard in the workshop."
When Finn completes his apprenticeship he wants to continue working at Porsche Centre Doncaster and strive to become a qualified gold Porsche technician. As for long term career plans, Finn aspires to be a Service Manager or a Technical Trainer for Porsche Australia.
"To be a Technical Trainer it would mean I could cover all aspects of each vehicle and the involved systems with extensive detail would be my dream. It would also allow me teach other technicians and apprentices about our quality products and how to carry out work on them. This would also increase my knowledge with the evolving electric age technology," says Finn.